The Gas Tungsten Arc Welding Process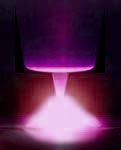 In the Gas Tungsten Arc Welding process (GTAW), also referred to as the Tungsten Inert Gas process (TIG) an electric arc is established between a tungsten electrode and the part to be welded. To start the arc a high voltage is used to break down the insulating gas between the electrode and the workpiece. Current is then transferred through electrode to create an electrode arc. The metal to be welded is melted by the intense heat of the arc and fuses together either with or without a filler material.
The arc zone is filled with an inert gas to protect the Tungsten electrode and molten material from oxidation and to provide a conducting path for the arc current. Shield gasses used are Argon, Helium or small percentages mixed with Argon. Shield gas is normally chosen according to the material type to be welded.
The process was originally developed to provide a means to produce acceptable weld quality on a variety of metal materials and alloys. Advancements in power supplies and weld process controls have allowed GTAW to be automated and the process is now used in a variety of weld applications.
- - - - - - - - - - - - - - - - - - - - - - - - - - - - - - - - - - - - - - - - - - - - - - - - - - - - - - - - - - - - - - - - - - - - - - - - - - - - - - - - - - - - - - - - - - - - - - - - - - - - - - - - - - - - - - - - - - - - - - - - - - - - - - - - - - - - - - - - - - - - - - - - - - - - - - - - - - - - - - - - - - - - - - - - - - - - - - - - - - - - - - - - - - - - - - - - - - - - - - - - - - - - - - - - - - - - - - - - - - - - - - - - - - - - - - - - - - - - - - - - - - - - - - - - - - - - - - - - - - - - - - - - - - - - - - - - - - - - - - - - - - - - - - - - - - - - - - - - - - - - - - - - - - - - - - - - - - - - - - - - - - - - - - - - - - - - - - - - - - - - - - - - - - - - - - - - - - - - - - - - - - - - - - - - - - - - - - - - - - - - - - - - - - - - - - - - - - - - - - - -