Orbital Welding Benchtop Saw
Model PF-AD105S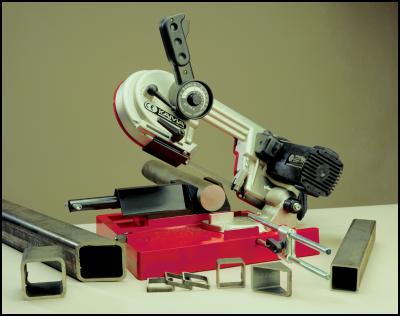 The Orbital Welding Benchtop Saw allows the user to make accurate, perpendicular cuts on parts up to 4 inches in diameter. When used with a tube squaring machine, this product makes up part of a precision preparation system for squaring tube and pipe prior to welding.
Features/Specifications
Cutting Capacity: 1/4" to 4" Tube
2 1/4 HP Motor (110V Single Phase)
Variable Speed 30-330 FPM
Solid Vise
Industrial Quality
Cuts Dry
Automatic Blade Tension
Safety Switch
Easy to Carry (Weighs 42 pounds)
Dimension of base: 16" x 13 1/2"
Ordering Information
Orbital Welding Benchtop Saw
Part # PF-AD105S
Bi-Metal Cutting Blade for PF-AD105S
Part # PF-KAB18
- - - - - - - - - - - - - - - - - - - - - - - - - - - - - - - - - - - - - - - - - - - - - - - - - - - - - - - - - - - - - - - - - - - - - - - - - - - - - - - - - - - - - - - - - - - - - - - - - - - - - - - - - - - - - - - - - - - - - - - - - - - - - - - - - - - - - - - - - - - - - - - - - - - - - - - - - - - - - - - - - - - - - - - - - - - - - - - - - - - - - - - - - - - - - - - - - - - - - - - - - - - - - - - - - - - - - - - - - - - - - - - - - - - - - - - - - - - - - - - - - - - - - - - - - - - - - - - - - - - - - - - - - - - - - - - - - - - - - - - - - - - - - - - - - - - - - - - - - - - - - - - - - - - - - - - - - - - - - - - - - - - - - - - - - - - - - - - - - - - - - - - - - - - - - - - - - - - - - - - - - - - - - - - - - - - - - - - - - - - - - - - - - - - - - - - - - - - - - - - -