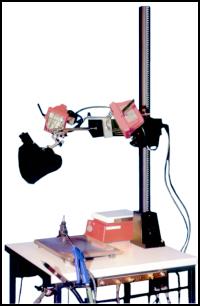 Also Available:
The Most Capable
Low Amperage
Welding Power
Supplies
Stereo Microscope with 10X and 20X magnification and scope cover

Rack and Pinion Adjustable Tower--includes two 150-Watt Halogen Lights and a custom mounting bracket to suspend the microscope above the part while connected to the tower.

7" x 7" ceramic heat control plate

Copper work surface with weld grounding and insulation from the worktable

Micro-Die Grinder for part drilling and preparation

Darkening Lens with adjustable shading that is controlled by a remote foot pedal. Includes an automatic shutoff feature.

Custom Pyrex Lens for TIG Torch to increase gas shielding while still providing excellent visibility.

Worktable with Formica Top, Adjustable Legs, Tool Holders, Air/Torch Holders, and Air Hookup

Printed Reference Material that provides an introduction to tool, die, and mold repair with information on preheat temperatures, filler metal selection, and much more.