GS2000 Automatic Arc Gap Setting System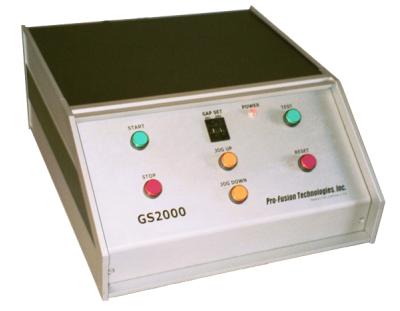 The GS2000 Automatic Arc Gap Setter allows the welding operator to set a precise and repeatable arc gap for prototype and production welding. The system also allows the operator to jog the electrode closer to the weld joint to check the electrode/weld joint alignment accuracy.
A precise arc gap eliminates inconsistencies in heat input, weld bead size, and weld penetration caused by manual arc gap measurement. Integration of the GS2000 increases production speed and volume while decreasing the level of skill needed to produce consistent and quality welds. Comes complete with a 3" anti-backlash ram and remote pendant.
Prior to each weld, the GS2000 motor slide lowers the welding torch to the work surface and retracts to an exact arc gap distance programmable in thousandths of an inch. The system then signals the weld controller to begin the weld program and upon completion of the cycle, retracts the torch an adjustable distance from the weld area during post purge.
System Benefits
Improves weld accuracy and consistency
Reduces scrap and rework
Improves weld speed
Reduces set-up times
Lowers skill requirements of operator
Eliminates user error common with feeler gauge methods
Specifications
Input Power: 120VAC Single Phase (50/60 Hz)
Enclosure Size: 11.5" x 5 5/8" x 12" Wt 10 lbs
Motor Slide: Size 2 3/4" x 9 1/2" x 2 3/4" Wt 4 lbs
Slide Travel: 3"
Travel Speed: 15" per minute
Weight Capacity: 15 lbs